Social Cleaning
Extra Care Facility
APM provides cleaning services to local authority Extra Care facilities and social housing companies across the North of England.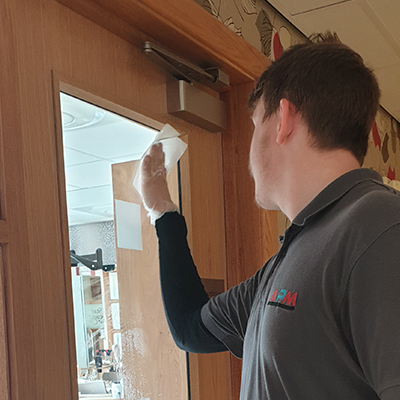 We specialise in the safe and professional cleaning of care environments to the highest standards and currently list Karbon Homes, Durham County Council Extra Care Facilites, Karbon Homes Social Housing Facilities, Castles and Coasts Social Housing, Cumbria Housing and Newcastle City Council among our Social Cleaning clients.
The highest standards of cleanliness
As key workers, APM Cleaning and Repair Ltd has signed up to the Infection Prevention Solutions Partnership Programme. Our aim is to use the training provided by qualified Infection Control Nurses, alongside a robust quality assurance process, to provide you with a cleaning service that will meet and exceed Care Quality Commission (CQC) standards.
We've invested in Hygiena EnSURE Touch Luminometer ATP Testing kits for use with SureSnap swabs and our staff clean all non-clinical surroundings to the equivalent of 50-100 RLUs (relative light units) – the standard for NHS public spaces. 
Fogging for fast and effective deep cleans
We also use electrostatic spraying technology – and fogging – to keep Extra Care facility environments safe for our clients.
Electrostatic spray sanitisation is a non-invasive professional cleaning service that's ideal for combating airborne pathogens. It provides the level of deep cleaning needed to open and maintain clean workspaces safely and to support Extra Care facilities in response to the Covid-19 pandemic.
Electrostatic Spraying is both fast and effective. Any areas that need to be deep cleaned and accessed again at speed, like social housing environments or Extra Care facilities, can be ready to reopen and use just one hour after treatment – with the peace of mind that they're completely free of bacteria or viruses. 
A spotless finish
APM use NHS approved products to ensure a spotless finish, clean all glass and reflective surfaces a second time to ensure a non-streaky finish.
Infection control
We provide mandatory staff training on infection control, COSHH (Control of Substances Hazardous to Health Regulations), manual handling and safeguarding.
When cleaning areas around a person with possible or confirmed coronavirus (COVID-19), all APM team members wear the minimum amount of Personal Protective Equipment – a protective mask, disposable gloves and an apron – as per Government guidelines.
Our cleaning staff are trained to perform deep domestic cleaning where Social services are the guardians of vulnerable people living in the community.